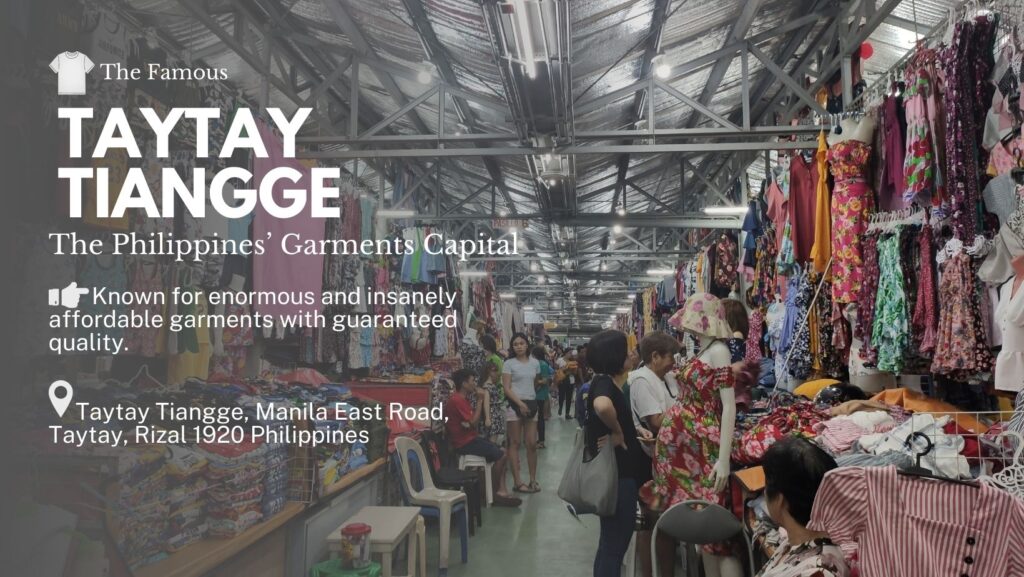 About Us
Taytay Tiangge Marketplace was initially conceptualize as an online shopping (like Shopee / Lazada) exclusive for Taytay Tiangge RTW & garments. However, due to several challenges we had upon launching, it didn't work as planned. Our main goal is to centralize all Taytay Tiangge RTW & garments — to help Taytayeños strive at this time of COVID-19. However, we believe when obstacles arise, you change your direction to reach your goal, you do not change your decision to get there. Hence, we created TaytayTiange.ph v2.0, a totally different platform from scratch to effectively promote Taytay Rizal RTW & garments, dubbed as the Philippines' Garments Capital. Famous for enormous and insanely affordable garments with guaranteed quality.
Looking Back
For the past several years, people from Taytay Rizal are already into textile and RTW (ready-to-wear) businesses in which garments are being sold in Divisoria, Baclaran, Tutuban, Greenhills and every part of the Philippines. Thanks to an initiative by the local Taytay government in 2014, Taytay-based tailors and dressmakers who used to rent space outside Taytay Rizal now have a more conducive business location right in their hometown. Few stalls started in a small lot of Club Manila East Compound. It gradually grew and continuously growing. As of 2017, there are around 10 garments center operating in Club Manila East Compound. Each garment center has hundreds to thousands of stalls selling different clothes. Of these ten, the biggest are Taytay Municipal Tiangge, Bagpi Garment Center, Igpai Garment Center, MASUERTE 4JC Tiangge and Freedom bazaar. Each center has varying schedule of opening and closing but almost all are open on main market days of Monday and Thursday evenings.
Since then, the Taytay Tiangge has become a shopper's paradise and a godsend for wholesalers. However, due to the ever growing businesses of Taytay Tiangge, there are some drawbacks and one worth mentioning is the traffic. For peak hours, the traffic stretches from Taytay Tiangge (Club Manila East) up to Ortigas Ave in Pasig City.
Create Account
Anyone can create account. All sellers, retailers, wholesalers, avid shoppers are welcome! Registration is free!
Post your Ad
If you are selling RTW or looking for something to buy, post your ad to get customers or get offers. Directly communicate with other users instantly!
Get Offers
Get exclusive offers, discounts and promotions without hidden charges.
Sell Your Item
If you have a physical Taytay Tiangge stall, resellers, wholesalers, this is the perfect platform for your to promote your business and grow your sales!
Jane Magbanua
Seller
This is a great platform for sellers and alike to promote products and get more sales!
Romeo Dela Cruz
Buyer
Taytay Tiangge Marketplace is exactly what we need to specifically find Taytay Tiangge products which is known for its quality and price.
Chris Espiritu
Taytay Tiangge Stall Owner
Due to recent COVID-19 restrictions and safety, our business needs to strive more to get and maintain sales. Taytay Tiangge Marketplace is a way for physical tiangge stall owners to sell our products without extra charges like Shopee and Lazada and we can directly contact our customers thru TaytayTiangge.ph
Eric Tolentino
Reseller
Though I am not from Taytay Rizal, I have a good friend with RTW business in Taytay Rizal who is also my supplier of RTW. I am thankful to Taytay Tiangge Marketplace as anyone can sell RTW products even not from Taytay Rizal!